Aristocrat is focused on embedding environmental considerations within our global supply chain and other core business operations.
MEASURING WHAT MATTERS
Key environmental issues at Aristocrat include product design and development (both hardware and software), waste and recycling, transport (freight, air travel, company vehicles), water and energy consumption.
In 2019, we have evaluated Group carbon emissions, including across manufacturing and logistics operations. We have focused on establishing baseline data on carbon emission volumes3, including transport4 and recycling5 for the largest part of our operations (Australia and North America6). We plan to extend carbon emissions tracking to other key locations in 2020. The Group will be also be developing our response to the Task Force on Climate-related Financial Disclosures (TCFD) Recommendations over the course of 2020. We are also planning to include water consumption, paper usage and freight data in the scope of our regular audit process our global business.
As a business, we are at the early stages of our journey in terms of understanding our environmental impact and performance, and driving improvements in line with our opportunities. We are committed to achieving real progress over time, beginning with establishing a more complete baseline and data capturing arrangements.
We are also reviewing existing product design practices, including hardware and software development, with a view to embedding sustainable design and procurement principles where possible.
3. The electricity, travel, and company vehicle usage metrics encompass data from our five largest facilities which includes Summerlin, Birtcher, Greystanes, Pinnacle, and Tulsa. Additional site information is being collected and will be included in future reporting.
4. Includes use of company vehicles and employee travel.
5. Includes recycling of the primary production facilities including Greystanes, Birtcher, and Tulsa. Additional site information is being collected and will be included in future reporting.
6. For 2019, data has been collected from our Las Vegas and Sydney operations only.
EMPLOYEE-LED ACTIVITIES
Our employees are passionate about the environment and this is demonstrated through the multiple practical and employee-led activities that take place across our global business. For example, our VGT team in Franklin, Tennessee implemented the following initiatives during the year:
Collection of 700 batteries and arranging to have them safely disposed, saved from landfill;
Use of rechargeable batteries for keyboards, mice and other electronic devices;
Supply of reusable beverage containers. This has resulted in a significant reduction of single-use bottled water (from 816 bottles in January 2019 to 96 bottles in September 2019) while also reducing the use of paper coffee cups and hot sleeves;
Substitution of plastics with recycled fibre, including compostable plant fibres;
Education and awareness sessions, including a plant-based eating program;
Volunteering to assist in mulching trails at a local park and
Improved signage at refuse/recycling bins to prevent contamination.
Our thinkBIGGER internal innovation platform also facilitates improvements, by harnessing employees' passion and creativity. In 2019, a thinkBIGGER Sustainability Challenge encouraged employees to propose actions to improve our environmental impact and sustainability. The challenge generated 172 submissions from across the business, a number of which will be taken forward and implemented.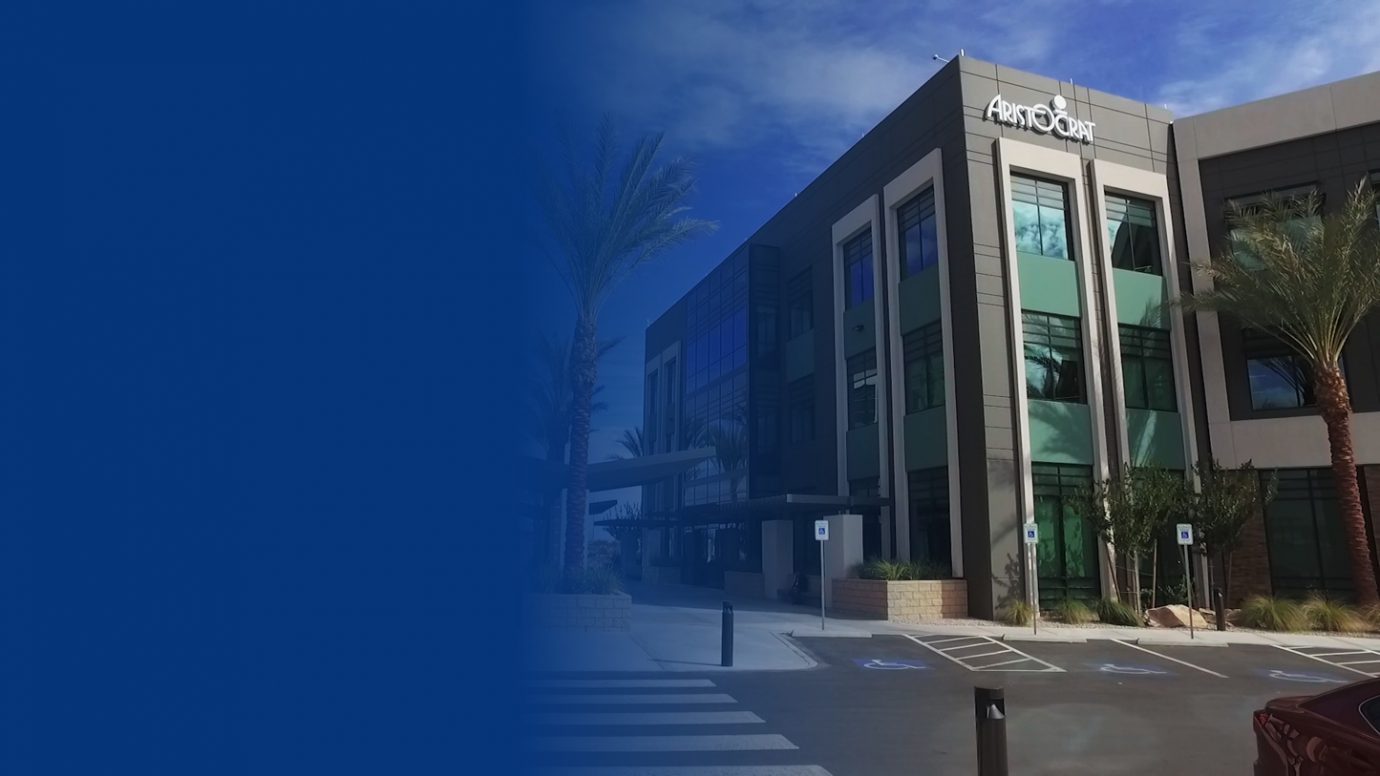 CASE STUDY
SUMMERLIN OFFICE RELOCATION
Buildings have a substantial impact on people and the planet. They use resources, generate waste and are costly to operate and maintain. "Green building" is the practice of designing, constructing and operating buildings to enhance occupant health and productivity, using fewer resources, reducing waste and environmental impacts.
As part of the planning for Aristocrat's new Las Vegas headquarters and campus in Summerlin, we ensured that the practice of "green building" was an integral part of the design process.
The core and shell of the buildings used environmentally-friendly materials to reduce the CO2 footprint, the project being awarded Leadership in Energy and Environmental Design (LEED) accreditation, an internationally recognised green building certification program. This responsible relocation mindset extended to the relocation process, which was managed carefully and with the enthusiastic support of our employees, and delivered:
In total, 28 tonnes of rubbish was diverted from landfill, and a number of local schools, medical centres and universities benefited from the donations.
10+

tonnes of recycling

10+

tonnes of goods repurposed and reused by employees

8+

tonnes of goods donated and re-used by local non-profit organisations. Goods included laptops, desktops, LCD screens and office furniture.
Please also refer to the Environmental Regulation statement in the Directors' Report