Aristocrat's employees are the heart of our business and the talent behind our success. That's why we're always looking for opportunities to strengthen a culture that attracts, motivates and retains the brightest talents in the industry, as well as lifting engagement and our overall employee value proposition.  Our business is united by four values: All About the Player, Collective Brilliance, Talent Unleashed and Good Business, Good Citizen.

CULTURE AND ENGAGEMENT
Aristocrat invests strongly in culture-building and engagement across our diverse and growing global business.
During 2019, employees were invited to participate in a Global Engagement Survey (GES) with a pleasing 86% taking the opportunity to have their say. Our overall engagement score was 66%, and represented a solid score, particularly in the context of the rapid growth and transformation of the business since the last GES survey in 2017.
Image illustrates GES response rates per Business Unit
Other key takeaways from the survey included:
Employees are proud to work at Aristocrat, and often tell others great things about working here;
Most employees believe we have a strong focus on workplace safety and security, and that we are quick to address any concerns;
Our diversity and inclusion indicators are strong, with high scores for fairness (specifically with respect to gender), and a work environment that employees regard as open and accepting of individual differences and
Employees generally feel empowered to complete their work and balance work and life demands.
Aristocrat is working to dial up the focus on our people, customers and innovation within our company culture. As a result, we were pleased that 64% of respondents in the GES said that they see us putting our people first, while 65% believe we have enhanced our customer focus and 59% say that we are making progress in promoting innovation.
A number of improvement opportunities were identified as a result of the GES feedback, and responses are being led at different levels through the organisation to ensure effectiveness and buy-in. Global culture champions have also been appointed to help develop and lead key organisation-wide initiatives. These include programs to embed a customer mindset and initiatives to encourage a 'speak up' culture that facilitates robust debate and transparency at every level.

ATTRACTING AND RETAINING TALENT
Aristocrat's 'Talent Unleashed' value recognises our priority of attracting and retaining talented people across our global business, and supporting them to unleash their full capability. We strive to build a reputation as an employer of choice, successfully competing for and retaining the best talent in the industry.
In 2019, Aristocrat was again recognised with the 'Great Place to Work' award as one of the top 50 companies to work for in India. This award included a citation for our commitment to supporting employees' development at every stage in their careers. We are proud of the business we have built in India, and the people who lead and work within it. Our aspiration is to achieve analogous recognition across the other key regions where Aristocrat operates.
Aristocrat has launched a LinkedIn Life page which is garnering strong engagement, and helping to share who we are, what it's like to work at Aristocrat and our culture and values with a broader candidate audience. The page also provides insights into our graduate program and community contributions, among other highlights.
EDUCATIONAL PARTNERSHIPS AND COLLABORATIONS
Aristocrat is extending and strengthening educational partnerships across major global markets to help attract top graduates to a broad range of roles in our business. Following a strong intake in 2018, Aristocrat has continued to attract a diverse mix of graduates into its entry program. The number of female graduates recruited through the program rose from 29% in 2018 to 33% in 2019. Over the same period, we offered a number of internships throughout the business, with the percentage of female interns increasing from 30% in 2018 to 33% in 2019.

CODE PROJECT
The CODE (Community Outreach to Develop Excellence) Project is an exciting initiative that was led by our Las Vegas employees during 2019. CODE demonstrates Aristocrat's values of Good Business, Good Citizen and Talent Unleashed, and strengthens our partnerships with educational institutions and local youth programs. Three senior Aristocrat employees serve on Clark County School District's (CCSD) Work-Based Learning Advisory Committee (WBLAC). Joined by other business leaders, parents, teachers and school administrators, the Committee strives to improve local students' attainment in science and technology and also advise on workforce development to benefit students and the broader Clark County community.
CASE STUDY
MACAU POLYTECHNIC INSTITUTE'S GAMING TEACHING AND RESEARCH CENTRE
Aristocrat is proud to sponsor an internship program with Macau Polytechnic Institute's Gaming Teaching and Research Centre (GTRC). As part of the program, our Macau business supplies lab technology to the GTRC. We also host two student interns from the program, who gain valuable industry experience in our Macau business and also participate in system and field support training. Through this internship program, our Macau business contributes to job creation and economic development for the local community.
YES PROGRAM
During 2019, at the invitation of University of Nevada Las Vegas, Aristocrat participated in the Young Executive Scholars Hospitality & Tourism Program (YES Program). This is a program of applied learning, team collaboration and a mentor-guided case-study analysis of the global hospitality and tourism industry. Contributors to the program comprise universities, non-profit organisations, industry and community groups. Aristocrat was pleased to be part of the YES Program and to help build a better future for Las Vegas youth.

TRIBAL SCHOLARSHIP AND EDUCATION
As part of our commitment to supporting our tribal gaming customers and communities, Aristocrat, through its subsidiary VGT, has initiated tribal scholarship and internship programs in our US business. The tribal internship program launched in late 2018, and was promoted through the American Indian Science and Engineering Society (AISES), while the first interns commenced at VGT in mid 2019. Further funding has been committed for 2020, to ensure the continuity of the scholarship program going forward.
We were honoured that VGT was included in the American Indian Science and Engineering Society, Winds of Change Top 50 STEM Workplaces in 2019. The citation recognises VGT for its support for workplace diversity and Indigenous STEM professionals.
The Top 50 Stem Workplaces 2019: Employee Spotlights
Aristocrat has also developed a company-wide initiative to educate our employees about the tribal nations, and the role that tribal gaming plays within these communities both in terms of sovereignty and delivering community services and advancement.

EMPLOYEE TRAINING AND DEVELOPMENT
During 2019, we continued to invest in programs to support individual contributor and leadership development. Our programs focus on building personal excellence, accelerating leadership readiness, establishing leadership foundations and mastering leadership fundamentals. Following the global launch of our "LeadIn" training program in April 2018, 418 leaders completed the "Essentials" curriculum, representing approximately 70% of our leader population. The program has received an average rating of 8.5 (out of 10) indicating an encouraging level of satisfaction upon which we will seek to build. A baseline leadership development suite has also been created and launched, to ensure future leaders are supported in their development and that the business' leadership capability continues to grow as a whole.

Our 'Talent Unleashed' value recognises that employees are our biggest asset, and ensures that development is at the heart of our approach to people. We believe that investing in talent and development is vital to sustainable business growth and success.
During 2019, and in response to feedback received through the Global Employee Survey, Aristocrat launched Power Hub. Power Hub is a new suite of people tools that are simple to find and use, and make our people processes easier to engage with. Power Hub is a one-stop-shop that offers tools to support performance, development, learning and leadership, as well as a fun and engaging new reward and recognition program, PowerPlays, which was launched on 1 October 2019.

MENTORING
Aristocrat strives to nurture the talents of all employees, and provide the right environment and opportunities for them to grow.
Following a successful pilot of GotMentoring (an online mentoring platform), the initiative was launched across the Aristocrat business in August 2019. Since launch, 393 employees have signed up to the program as mentors, mentees or both.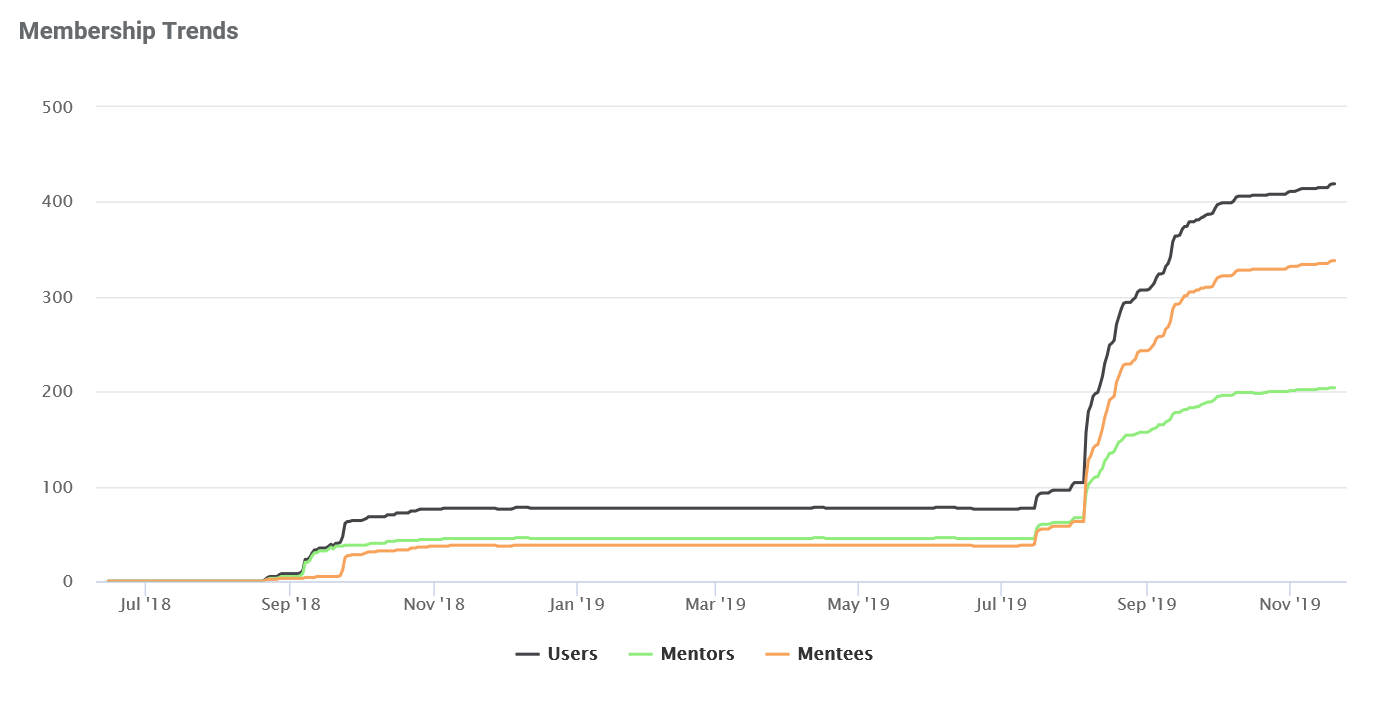 An internal employee survey has identified a number of key areas for development and focus including:
Top 10 skills to improve: managing up; project management; negotiating and resolving conflict; improving processes; courage and confidence in speaking up; planning and execution; developing adaptability; analytical thinking; communicating effectively; displaying drive and purpose.
Top 6 areas where mentoring sought: leadership skills; networking; career guidance; job or career change; professional skills; improve job effectiveness.
Top 6 leadership competencies development sought: exhibiting leadership stature; enhancing business perspective and acumen; managing politics and influencing others; setting vision and strategy; taking risks and innovating.
GotMentoring enables employees to match and partner with mentors who meet their specific development needs, no matter where they are located across our global business. The platform enables employees to take full ownership of the direction of their mentoring relationships as well as creating development plans, joining mentoring circles and sharing materials and resources across users.
Through check-in surveys and direct communication from employees, feedback on the mentoring program been positive and subscription to the program continues to grow.
Extension of the GotMentoring program to our Big Fish, Plarium and Product Madness employees is planned for 2020.

ENHANCING EMPLOYEE BENEFITS
Every year our Benefits team undertakes an extensive review of all current benefit offerings. We gather benchmarking and trend data to ensure we are offering competitive packages to attract and retain the most talented employees.
Aristocrat's innovative employee share program, SuperShare was launched during 2019. The program was awarded the Best International Share Plan at the Employee Ownership Australia Awards in August 2019. We are proud that SuperShare was recognised for its generous matching conditions and the unusual flexibility of the scheme, making it possible for more employees to participate in the program and share in our success as owners.
Aristocrat also offers free access to a confidential, 24 hour Employee Assistance Program (EAP) which has been designed to support the emotional, mental and general psychological wellbeing of employees and also assist immediate family members.

Providing a workplace where employees can work and play is a focus

EMPLOYEES WHO INNOVATE
Aristocrat strives to foster innovation across all parts of our business.
In 2016, we launched thinkBIGGER as an internal program for accelerating product innovation. In the first two years, employees generated more than 1,000 ideas, several of which were selected for continued development. In 2019, the thinkBIGGER program pivoted to a crowdsourcing platform, and evolved beyond a product-only focus to encompass a much wider scope of challenge topics. Since launching this new platform in late June 2019, four separate challenges have launched. A sustainability challenge generated 172 ideas, 8000+ visits, 1,200+ comments and 4,500+ votes from across our organisation. A global evaluation committee (45 leaders in the business) reviewed and landed on finalists.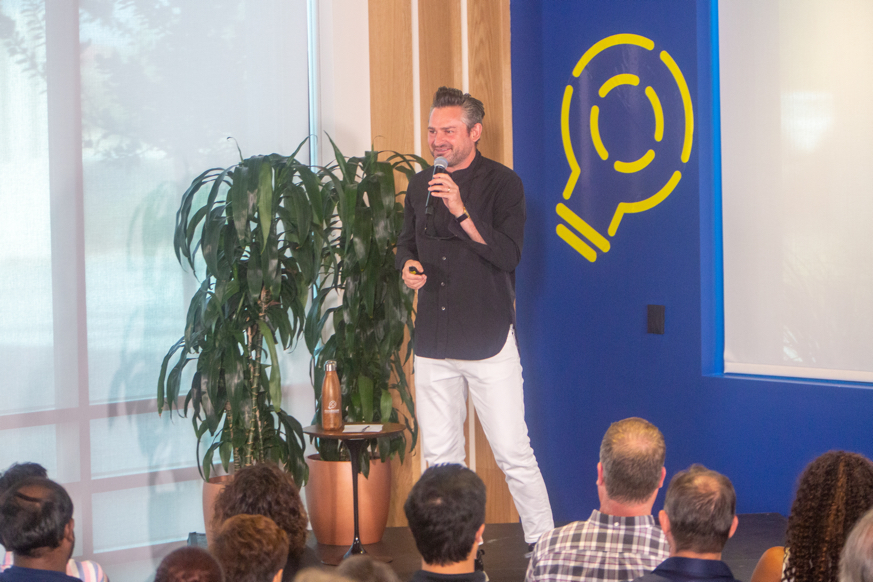 Dr. Frederik Pferdt, Chief Innovation Evangelist at Google, presenting at the thinkBIGGER Shark Tank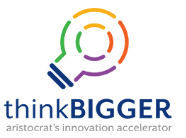 The thinkBIGGER platform has been purpose built with robust crowd-science intelligence to help the organization quickly identify and develop promising ideas and is now accessible to all employees across Aristocrat's global organisation.
We're proud of the fact that this program continues to grow year on year, showcasing and supporting our commitment to fostering a people first and innovation culture, and that employee engagement in the program has been so strong.
Aristocrat also awards a "Patent of the Year" prize, which is considered to be the highest honour for our creative teams. Participants in our Patent Program are eligible for financial incentives, reflecting the company's strong commitment to cultivating innovation and building the patent portfolio that underpins our sustainable success. We encourage everyone across the business to get involved by submitting ideas/inventions for award consideration.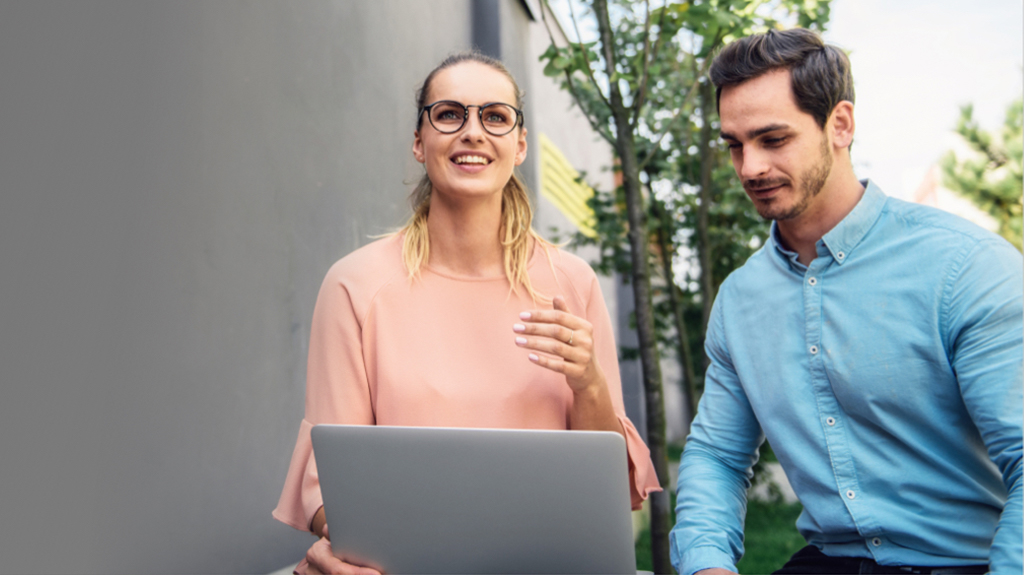 EMPLOYEE FLEXIBILITY AND LIFE BALANCE
Aristocrat has developed guidelines and a toolkit to support employees seeking greater flexibility in the way that they work. The toolkit includes information modules which provide guidance and direction on effective flexible working practices, communication, resource planning, stakeholder management and work health and safety considerations.
WORKPLACE HEALTH, SAFETY AND WELLBEING
Aristocrat treats workplace health, safety and wellbeing issues with the highest priority, consistent with our values. The business has strong measures in place to maintain and promote a safe workplace for every employee, with an emphasis on preventative actions.
In meeting its legislative obligations, Aristocrat:
Ensures that it is maintaining a safe working environment;
Ensures that maintenance of plant and structures is completed;
Ensures maintenance of safe systems of work;
Ensures the safe use of, handling and storing of plant, structures and substances;
Provides safety information, training and supervision to all workers;
Provides adequate facilities for the welfare of workers when working, including wellness rooms and fitness centres; and
Supports workers to prevent injury through training and education on identifying and reporting incidents of all types.
Aristocrat has three safety qualified employees, supported by eleven safety committees globally who contribute to sharing and expanding our safety culture. During 2019, 93% of new hires attended Workplace Health and Safety training, with further training on the fundamentals of safety being designed and rolled out during 2020.
Also during 2019, 175 safety audits were conducted across our land-based business. We have seen a significant uptick in incident reporting, with 60% of all incidents reported as near miss or hazard items. This data is being applied to help identify areas for improvement., the business has experienced a reduction in the amount of incidents resulting in lost work time, from 12 in 2018 to 8 in 2019.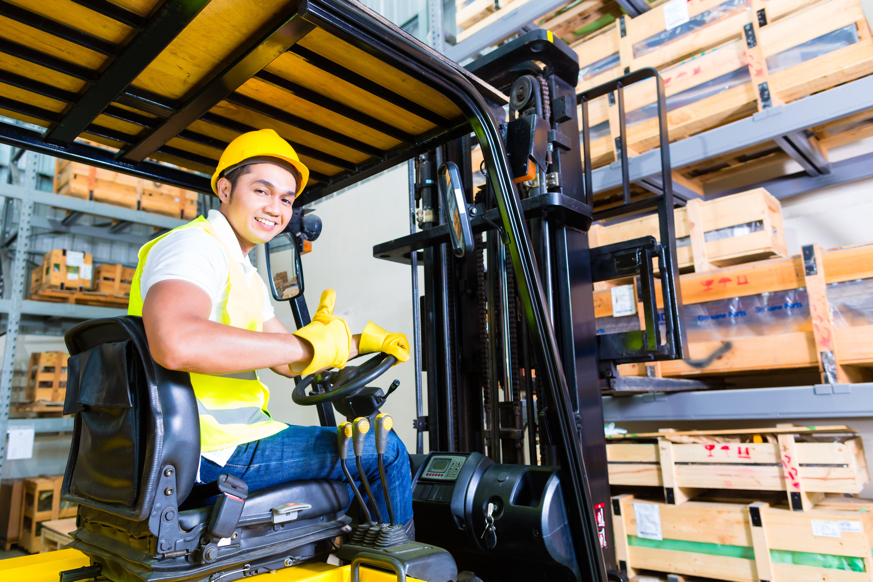 We also recognise the importance of general employee wellbeing, and take opportunities to keep these issues front of mind, including through a designated "Wellness Week" and special events in conjunction with RUOK Day in Australia and Safety Day in North America. We seek to expand our wellness offering where possible, with employees having access to health checks and skin cancer assessments, as well as annual flu vaccinations, and more health and fitness opportunities to roll out at various sites in 2020. The company will also be rolling out training to add more mental health first aiders to the business in the coming year.
To support wellbeing, employees are provided with access to an Employee Assistance Program (EAP) which offers a range of professional services, including counselling and coaching sessions for employees and immediate family. These sessions extend to issues such as conflict, stress, anxiety and depression, drugs and alcohol, relationships and personal issues, trauma, grief and loss. Coaching can also help with preventive measures through goal setting, decision-making, major life events, peri-natal coaching, financial coaching, work-life balance, communication and improving relationships.