Aristocrat believes that attracting and retaining employees with diverse backgrounds, experiences and abilities fundamentally contributes to our business success, and delivers benefits for all stakeholders. During 2019, we focused on reviewing key business policies, practices and behaviours to ensure we are doing everything we can to promote diversity, inclusion and equal opportunity across our business.
OUR POLICY
As well as upholding our legal obligations with respect to non-discrimination and employee rights, Aristocrat adheres to a global company diversity policy. Our policy aims to create an environment in which individual differences are valued, and all employees have the opportunity to realise their potential and contribute to Aristocrat's success.
Aristocrat's Board Committee Charter specifies that the Board, with the guidance of the Human Resources and Remuneration Committee, is responsible for approving Aristocrat's diversity policy. The Board is also responsible for establishing measurable gender diversity objectives and assessing progress annually. This includes monitoring the proportion of female employees across the Group, in leadership positions and in individual business units. Responsibility for implementing Aristocrat's policy is also vested in each of our people leaders.
Our policy commits us to:
Ensuring all appointments, transfers, learning and development opportunities are merit based and consider an individual's skills, behaviours, qualifications, abilities and aptitude in relation to the position requirements, career strategy and level of interest in opportunities that arise within the organisation;
Ensuring all employees and prospective employees are treated in a manner that is consistent with Aristocrat's diversity objectives;
Identifying and addressing barriers to employment, training, development and promotion;
Being consistent with the development, application and monitoring of people policies and practices in terms of diversity and inclusion principles; and
Providing employees with a means to resolve grievances in connection with the policy.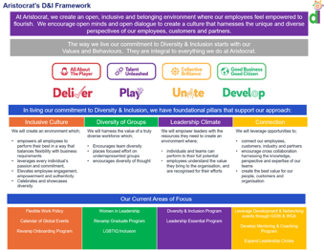 DIVERSITY & INCLUSION
Employees play a key role in bringing our diversity and inclusion commitments to life. For example, our Global D&I Councils, which operate in all regions, create and lead their own local diversity and inclusion events and initiatives, engaging local employees in ways that are meaningful and relevant to them.
For example, key events celebrated locally in 2019 by our teams included the following:

Local teams are also encouraged to create opportunities to celebrate local culture and drive employee engagement.
For example, our Plarium team in Herziliya corporate office hosted a 'first grade' event in 2019; hosting children of employees who were starting first grade at school to an afternoon of fun. The celebration involved the whole team, and included themed refreshments, a creativity workshop, a bubble show with gifts and certificates. 'First grade' gift sets were also handed out to the children of Plarium employees in Kharkiv, Ukraine.
Plarium also celebrated Tu B'Av, the Jewish day of Love, by decorating the Herziliya corporate offices and handing out special gifts of wine and wine glasses for employees to share with their partners, friends or family. Plarium's team in Krasnodar, Russia, also got into the team spirit, with football matches, hiking and sailing events and through supporting a local animal shelter with food, and volunteer time.
Plarium Herziliya corporate office has also adopted Beit Hagalgalim, the home for Cerebral Palsy youth, located in Herziliya, where our Plarium Israel employees have volunteered over the last 2 years on a regular basis.
GENDER EQUALITY
Aristocrat takes active steps intended to improve the participation and advancement of women in our business, and industry.
Three out of eight members of Aristocrat's Board1 are women, along with one-third of our executive leadership team. As a "relevant employer" under the Australian Workplace Gender Equality Act 2012, Aristocrat was confirmed to be compliant with the Act in 2019 and was able to demonstrate an increase of 1.2% in female employees to 24.4% in 2018/19.
More work is required to increase the level of female participation at Aristocrat. As a business with substantial teams in the traditionally male-dominated functions of manufacturing, sales and service, we recognise that we have a particular challenge in this regard. Our diversity and inclusion strategy is aimed at achieving meaningful progress, with our current priority focus on the key areas of sales operations, service and creative studios.
1. Includes Philippe Etienne, Non-Executive Director, nominated to the Aristocrat Board in October 2019
Aristocrat Global Hires in 17/18 vs 18/19
Aristocrat hired 1.95% more people during 2018/19 compared to 2017/18.  Over the same period, we hired 2.57% more women, fractionally improving overall female participation.
Our 2019 Global Employee Engagement Survey posed three questions relevant to gender equality:
In my organisation sex-based harassment is not tolerated.

This received a 92% positive perception score from employees;

My immediate supervisor/manager genuinely supports equality between women and men.

This received a 90% positive perception score from employees;

I have the flexibility I need to manage my work and caring responsibilities.

This received an 86% positive perception score from employees.
This is encouraging feedback and provides a baseline for future surveys and engagement. Over the coming year, we will be focused on improving both the fact and perception of gender equality through refinements to our recruitment processes and employee education programs. We will also work to understand pay outcomes by gender and implement other initiatives as appropriate.
WOMEN IN THE GAMING INDUSTRY
Aristocrat helps female employees to build their personal brand, skills and networks by supporting associations that promote women in our industry. Peak bodies supported by Aristocrat include Global Gaming Women (GGW) based in the US, and Women in Gaming and Hospitality Australasia (WGH).
GLOBAL GAMING WOMEN (GGW)
GGW was established by the American Gaming Association to create networking opportunities for women in the gaming industry. It is now an independent charitable organisation which, in addition to networking events, delivers learning and development programs and events that support the development of female executives.
As a long-term member and sponsor of GGW, Aristocrat has two senior female employees serving on the GGW Board. We contribute strongly to the direction and strategy of GGW, including through leadership roles on the Strategic Planning Committee and Membership Committee, and through the position of Senior Advisor to the GGW Board.
During 2019, Aristocrat contributed to a range of GGW initiatives including:
Sponsorship of 'Kick Up Your Heels' networking events;
Support for 'Conversations with the C Suite' events held at both Aristocrat and the Oklahoma Indian Gaming Association tradeshow; and
Support for 'GGW Power Up', and the MGM Women's Leadership Conference.
A series of GGW Dine Around events has also featured on our calendars this year. The Dine Around events are hosted by our senior executives and provide an opportunity for employees to glean insights from a senior leader, share a meal with co-workers and meet new people throughout the business. During 2019, we hosted 20 Dine Around events across our Franklin, Las Vegas and Tulsa offices, with 156 employees participating, covering a diverse range of topics, including the importance of grit and authenticity, leadership and development.
In collaboration with GGW, Aristocrat developed the Leadership Foundations Program, a learning and development program attended by 50 rising female leaders within Aristocrat's Americas business during 2019. As part of our commitment, Aristocrat has also provided opportunities for female employees to attend regional GGW conferences and events throughout the year.
We are also proud that Deanne McKissick, an Aristocrat leader who has contributed significantly to GGW, was the recipient of the inaugural GGW Patty Becker "Pay It Forward" Award in 2019.

WOMEN IN GAMING AND HOSPITALITY AUSTRALASIA
WOMEN IN GAMING AND HOSPITALITY AUSTRALASIA (WGH)
WGH launched in May 2017, with Aristocrat and The Star Casino as founding partners, and is the only body in Australasia dedicated to developing, connecting and empowering women working in the gaming and hospitality industries. WGH delivers education, mentorship and networking opportunities, and is an Australian registered charity.
WGH grew strongly during 2019, with event attendee numbers increasing from 520 in 2018 to 1169. Twelve major events were held across Australia and New Zealand during the year.
With two senior Aristocrat female employees serving on the WGA Board, we have contributed to the direction and strategy of WGA, including "Step Forward" networking and development events. Aristocrat also contributed to WGH's "Change the Game" campaign at major trade shows during 2019, highlighting the barriers women face in the workplace and practical strategies to overcome these.
In support of WGH's partnership with the social enterprise Women Ahead, Aristocrat provided financial support and contributed senior mentors to an innovative cross-company, cross-sector mentoring program.
Aristocrat also provided financial support to enable WGH to award an annual scholarship for a high potential woman to attend the Executive Development Program offered by the University of Las Vegas, in partnership with University of Reno. This program is uniquely tailored for emerging gaming and hospitality executives, helping them to gain the skills and confidence to take the next step up in their career.
Further information about the program can be found here:
https://www.unlv.edu/news-story/australian-non-profit-women-gaming-hospitality-partner-unlvunr-executive-development
https://www.unlv.edu/news-story/hannah-morelos-wins-women-gaming-hospitality-scholarship-attend-executive-development

SUPPLIER DIVERSITY
Aristocrat also seeks to promote diversity and inclusion where possible through our commercial operations. For example, Aristocrat is proud to partner with umAfrika Gaming Technologies (Pty) Ltd, our exclusive distributor in South Africa and other Sub-Saharan and Indian Ocean countries. umAfrika is a South African company that is majority black owned. umAfrica has been awarded B-BBEE (Broad Based Black Economic Empowerment) Level 1 Contributor status, as measured against the Codes of Good Practice on BBEE.