Aristocrat believes that attracting and retaining employees with diverse backgrounds, knowledge, experiences and abilities contributes to our business success and delivers benefits for all stakeholders. We are currently taking a thorough look at our business policies, practices and behaviours to ensure we are doing everything we can to promote diversity, inclusion and equal opportunity across our business.
1. Our Policy
Aristocrat upholds its legal obligations with respect to non-discrimination and employee rights consistent with local laws that apply across our global operations. We also uphold a company diversity policy that aims to create an environment where individual differences are valued and all employees have the opportunity to realise their potential and contribute to Aristocrat's success.
Our Board Committee Charter specifies that the Board, with the guidance of the Human Resources and Remuneration Committee, is responsible for approving Aristocrat's diversity policy and measurable objectives for achieving gender diversity, assessing annually those objectives and the progress towards achieving them, as well as monitoring the proportion of women across the group.
Responsibility for monitoring the effectiveness of this Policy and for implementing Aristocrat's commitment to diversity and inclusion is vested in each of our people leaders.
Our policy commits us to:
Ensuring all appointments, transfers, learning and development opportunities are being
made on the basis of merit with consideration being given to the individual's skills,
behaviours, qualifications, abilities and aptitude in relation to the position requirements,
career strategy and level of interest in opportunities that arise within the organisation.
Ensuring all employees and prospective employees are treated in a manner that is consistent
with Aristocrat's diversity objectives.
Identifying and addressing barriers to employment, training, development and promotion
within the organisation.
Development, application and monitoring of people policies and practices being consistent
with diversity and inclusion principles.
Providing employees with the means for resolution of grievances in connection with the
policy.
2. Our D&I Framework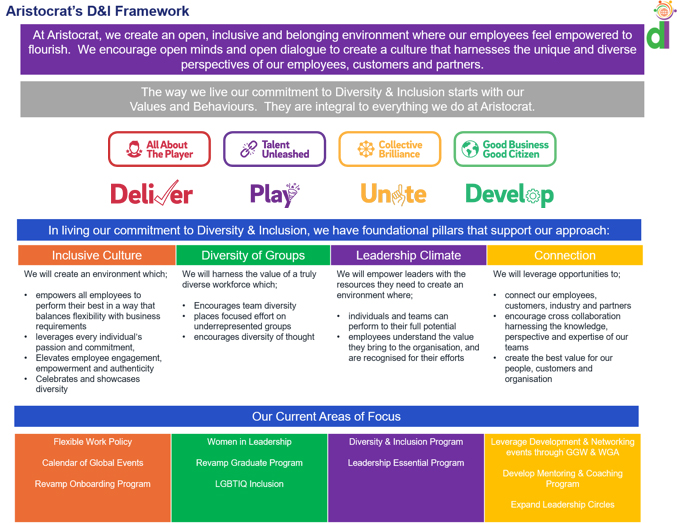 To bring our D&I vision to life, in 2017 we established a global D&I Steering Committee comprising eight senior leaders representing our global businesses and 13 local D&I Councils comprising 30 employees to drive diversity and inclusion initiatives across the regions.
The business has recently focused on unconscious bias training, supporting women in leadership and Women in Tech events. This included the Sydney C++ Meet-Up where members of our game design team presented insights into C++ language and programming with industry peers.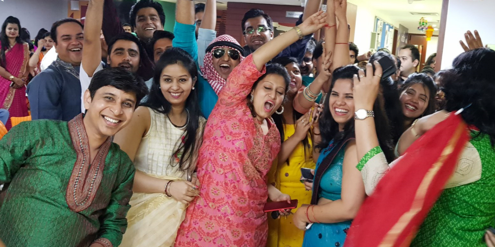 In a typical year, our local D&I Councils run more than 80 events across our global business recognising significant days celebrated by the diverse cultures represented throughout Aristocrat. These include Chinese New Year, Diwali, Holi, Thanksgiving, Australia Day, Passover, Tisha Be'au, Israel Independence Day, Russian National Day of Unity, Independence Day of Ukraine, as well as highlighting key international events such as International Women's Day, Mardi Gras, International Men's Day, World Environment Day and the World Day for Cultural Diversity.
This year, Aristocrat was recognised as the Top 'Hiring Our Heroes' Employer by the City of Las Vegas for hiring the largest number of ex- servicemen and women. 'HiringOur Heroes' is a US nationwide initiative that helps veterans, transitioning service members, and military spouses find meaningful employment. We ensure the successful integration of our 'Hiring Our Heroes' recruits by offering them participation in a mentorship program.

3. Gender equality
Aristocrat takes a range of steps intended to improve gender equality and support full and equal participation of women in our workforce. Research has repeatedly shown that this makes good business sense as workplace gender equality has been linked to improved productivity, innovation and economic performance.
Female representation on Aristocrat's Board is 37% and our Executive Steering Committee 22%. Although there has been strong progress with gender diversity at the Board and Executive Steering Committee levels, we are working towards increasing the level of female representation throughout the balance of the organization and our D&I strategy is aimed at achieving this.
The Workplace Gender Equality Agency (WGEA)  is an Australian Government agency charged with assisting Australian companies achieve better gender equity outcomes. As a "relevant employer" under the Workplace Gender Equality Act 2012, Aristocrat was deemed compliant with the Act for 2017 – 2018. Nevertheless, Aristocrat will be reviewing all requirements of the Act and considering participation in the prestigious Employer of Choice for Women (EOCFW) citation.
4. Global Gaming Women (GGW) and Women in Gaming Australasia (WGA)
Aristocrat is increasingly focused on providing opportunities for female employees to network and build their personal brand, skills and professional reputations through actively supporting associations that promote women in the industry. Peak bodies Aristocrat supports include Global Gaming Women (GGW) based in the USA and Women in Gaming Australasia (WGA). GGW was established by the American Gaming Association to create networking opportunities for women in the gaming industry. In 2016, GGW became an independent charitable organisation which, in addition to networking events, delivers learning and development programs and events that support the development of women in the gaming and lottery industry.
As a sponsor of GGW, Aristocrat has two senior female employees serving on the GGW Board. We contribute strongly to the direction and strategy of GGW, including through leadership roles on the Strategic Planning Committee and Membership Committee. Recently, Aristocrat contributed to several new GGW initiatives including "Conversations with the C Suite" and Emerging Leaders Development Course. We also actively supported events such as W Leadership for Senior Executives, Dine-Arounds, Lean-In breakfasts, Lean-In Circles and GGW Mentorship dinners. The number of women attending GGW events increased 25% from 2017 to 2018.
The WGA was launched in May 2017 with Aristocrat and The Star Casino as founding partners and is the only industry body in Australasia dedicated to empowering women working in the gaming industry. WGA supports the development and success of women in the industry through education, mentorship and networking opportunities and is a registered charity with the ACNC under the classification 'Promoting or protecting human rights'.
With two senior Aristocrat female employees serving on the WGA Board, this year we have significantly influenced and contributed to the direction and strategy of WGA, including the launch of "Step Forward" – a series of learning, development and networking events held in Sydney, Brisbane, Gold Coast and Melbourne. These events are attended by a diverse range of women in gaming, from graduates through to senior female leaders.
ARISTOCRAT'S CURRENT EMPLOYEE
DEMOGRAPHICS – TECH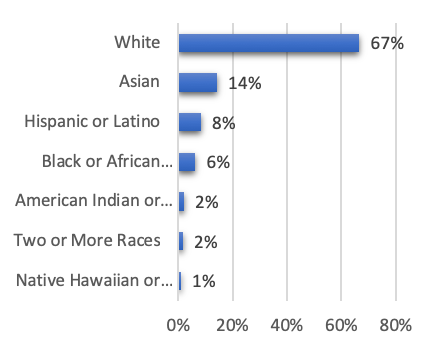 ARISTOCRAT'S CURRENT EMPLOYEE
DEMOGRAPHICS – NON TECH
5. Supplier Diversity
We understand our impact in D&I will be enhanced by working with other companies who adopt a similar approach to Aristocrat. An example of this is our support, in the area of Broad Based Black Economic Empowerment, of umAfrika Gaming Technologies (Pty) Ltd, a subsidiary of umAfrika Holdings and Aristocrat's exclusive distributor in South Africa and other Sub-Saharan and Indian Ocean countries. umAfrika is a 100% South African owned company with majority black ownership and a purpose, mission, values and behaviours which are aligned to those of Aristocrat. umAfrika has been awarded B-BBEE Level 1 Contributor status as measured against the Codes of Good Practice on Broad Based Black Economic Empowerment and Aristocrat is proud to have contributed to this achievement.