VOLUNTEERING AND CHARITABLE GIVING
Aristocrat supports our employees to volunteer and get engaged in their communities in ways that are meaningful to them. Most of our giving – whether that's in terms of time or financial support – is led by employees and teams at the regional and local level, rather than being determined centrally. One day of paid leave annually is given to each employee to encourage participation in volunteering, and employees are empowered through the Aristocrat CARES and Engagement Teams to nominate and select charities for this purpose.

GLOBAL VOLUNTEER MONTH
July is our Global Volunteer Month, which unites employees around the world in expressing our value of 'Good Business, Good Citizen'. Individual employees and teams have the opportunity to volunteer and make a real difference in their local community. In 2019, 445 employees donated over 3,300 hours of time to supporting charities and community organisations during the Month.
CHARITIES SUPPORTED THROUGH EMPLOYEE VOLUNTEERING DURING 2019:
ARISTOCRAT CARES AND ENGAGEMENT TEAM
Aristocrat also facilitates regional fundraising and volunteer initiatives throughout the year under the banner of "Aristocrat CARES". Engagement Teams in each region are comprised of local employees who are passionate about contributing to their community. These teams are provided with a budget, and they take the lead in identifying and supporting causes and charities under the guidance of Community Involvement Committees (CIC) located in both Sydney and Las Vegas.
BUSINESS-LED GIVING
While most community giving at Aristocrat is employee-led, our businesses also actively support worthy causes – whether that's cause related marketing initiatives, long-term partnership agreements or simply giving in the context of special events. Below are examples of business-led giving at Aristocrat over 2019.
NATIONAL BREAST CANCER FOUNDATION
CASE STUDY
NATIONAL BREAST CANCER FOUNDATION (US)
Big Fish Games launched a major initiative coinciding with Breast Cancer Awareness Month in the US (October). The company pledged a donation of USD 225,000 to the National Breast Cancer Foundation, Inc. (NBCF), as well as an additional USD 25,000 toward in-kind activities for employees, including assembling NBCF HOPE Kits for 300 breast cancer patients across the country.
As part of the effort, Big Fish hosted an NBCF-hosted lunch-and-learn for employees in its Seattle and Oakland offices.
Through its campaign, Big Fish aimed to rally players to "play for a cause" in support of breast cancer awareness. Two special NBCF-branded in-game events were created across several of Big Fish's most popular free-to-play titles, including Gummy Drop!, Cooking Craze and Fairway Solitaire. Game play was entirely free for the designated events, and players were not required to purchase anything from Big Fish to participate. With hundreds of Big Fish employees across two offices participating, and more than 1 million unique visitors to the Big Fish for a Cause landing page, news of the campaign was covered by national press, with feature stories in influential business publication Forbes and leading games trade Gamasutra.
Read more about this initiative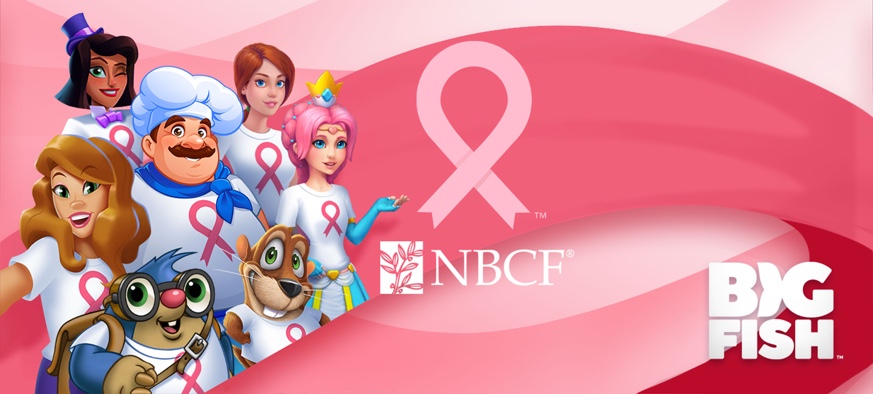 CASE STUDY
CEREBRAL PALSY SUPPORT (AUSTRALIA & ISRAEL)
Cerebral Palsy Alliance (CPA) is a non-profit organisation dedicated to helping those living with cerebral palsy, and other neurological and physical disabilities, to lead full and independent lives.
Aristocrat has supported CPA for over a decade through donations, fundraising and employee volunteering. Over the lifetime of this relationship Aristocrat has contributed more than AUD1.5 million to CPA, including AUD $252,207 during 2019 raised by employees through participation in CPA fundraising activities such as the Krazy Kosci Klimb, STEPtember and the Grace Gala. In addition, Aristocrat has hosted the CPA Christmas Party, including the provision of food, gifts and entertainment for all kids attending the event.
Aristocrat employees also gave their personal time to support the CPA's Triathlon Camp held over a weekend in September. The camp helps kids with cerebral palsy to improve their sporting skills and fitness and is a popular fixture on the CPA calendar.
In Israel, the Plarium team have also been volunteering in support of Beit Hagalalim, a local charity that supports people living with cerebral palsy, for the past two years. Building on this partnership, in 2019, Plarium's Rosh HaShana toast was celebrated with the community at Beit Hagalalim.

CASE STUDY
SOLAR BUDDY (ASIA)
As part of a global Aristocrat conference held in March 2019, participating employees from around the world worked together to assemble 300 solar lights for the charity Solar Buddy.
Solar Buddy distributes lights to children in communities that lack access to safe and reliable lighting. Solar lights not only help improve children's educational attainment (increasing evening study time by around 78%), but also reduce reliance on expensive and polluting sources of energy and allow children to travel around more safely.
The lights assembled by Aristocrat employees were delivered to students at Kbal Toal Primary School in Cambodia, as part of Solar Buddy's development partnership with the Kbal Toal community. About 30% of the population in Cambodia has no access to grid electricity and two-thirds of households that are connected experience frequent power shortages.
The lights will facilitate over a million hours of safe study time for the children of Kbal Toal community over the next 5 years.

CASE STUDY
SOAP FOR HOPE (ASIA PACIFIC)
Twelve members of our Asia Pacific Sales and Marketing team got together in Manila to visit the rooftop gardens and composting facilities City of Dreams Manila, to learn about their carbon impact minimisation initiatives.
As part of the visit, the team participated in a program spearheaded by City of Dreams Manila, collecting, cleaning and compacting soap bars from hotel rooms that would otherwise be thrown away and find their way to landfill. The Aristocrat team prepared more than 250 soap bars which were packaged ready for shipment and distribution to members of the Manila community who do not have access to soaps and other hygiene supplies.