Our South Australian team were extremely proud to take part in the Clubs SA inaugural Hospitality Trade Show at the Morphettville Racecourse in late May.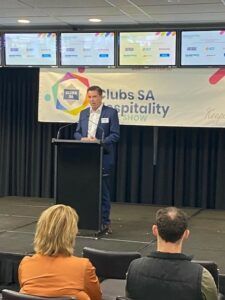 With the cancellations of in-person events over the past year due to the pandemic, Clubs SA held an event for its Members and Partners offering the opportunity to connect with our valuable customers.
Our dedicated and talented team in South Australia showcased some of our exciting game families. It was a huge success with a great turnout from our customers, marking the first time the industry has come together for an in-person event since pre-COVID. The SA team showcased More More Chilli from Studio 6 on the Helix XT cabinet and our best-selling Dragon Cash Peace & Long Life and Lightning Cash Mine Mine Mine from HRG Studios.
The day was filled with networking, presentations and lots of fun. The tradeshow had a local flavour, with speakers throughout the day presenting on issues that affect all SA licensed Clubs.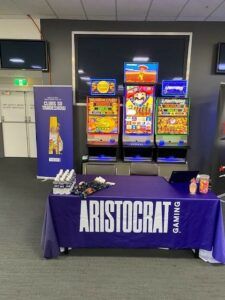 Not only this, they provided valuable advice and assistance on operating a strong and viable South Australian not-for-profit Club.
This was an invaluable opportunity to reconnect with our customers to showcase our latest innovations. We can't wait to reconnect with you all again at the Australasian Gaming Expo (AGE) in August.