It was an absolute pleasure sharing our exciting portfolio of games, hardware, technology and digital solutions at this year's Australasian Hospitality and Gaming Expo (AHG).  For those of you who might've missed it, our theme 'Come Play' came to life like never before.
We showcased some of our highly anticipated products, Fu Dai Lian Lian, and proven performing games like Dollar Storm. We had a strong line up of games that proves why Aristocrat is your trusted partner.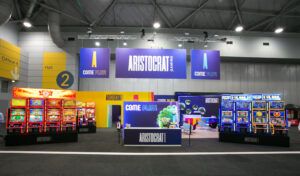 With some of the industry's best gaming talent on board, we presented a portfolio that offered more depth and breadth than ever before. With over 11 titles on the stand this year across 4 of our innovative studios, we're confident that our games will support cater to your venue's individual needs.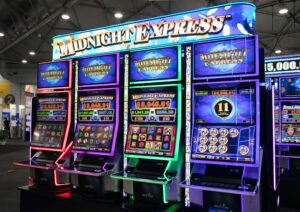 Our talented teams bring vision and creativity to every challenge to deliver the ultimate gaming experience – from the next gen products like Scorchin' Fortune to innovative content like Midnight Express.  Our goal is to ensure every one of our games delivers an exceptional playing experience while giving operators strong confidence in their gaming investment.
We pride ourselves on providing our valued customers an end-to-end gaming solution and our Customer Experience Solutions (CXS) portfolio has a robust range of solutions to suit your venue needs. Our CXS team showcased some of its latest innovation from our in-venue marketing app, PRIME Mobile to our industry-leading PRIME Wallet. Our objective is to provide you with the best tools and analytics to manage your business, and to continuously improve our products and service offering over time.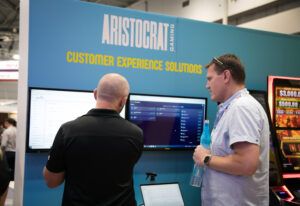 During the show we took our customers on a journey where we highlighted our advancements in hardware and technology by showcasing our impressive MarsX Slant and some exciting new gaming concepts. Not only this, we brought the 'fun' back into our stand by incorporating an interactive instant-win game where everyone tried out their luck for top prize by pushing the big, red button (pictured below).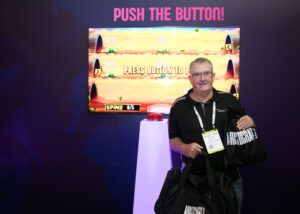 Thank you to all our customers that supported Aristocrat at the recent AHG tradeshow. It was a great opportunity to reconnect with you all, and we hope you enjoyed the great line up of products.  For more information visit www.aristocrat.com/anz or reach out to your Aristocrat Business Partner.