On November 17th, our teams across NSW Metro and Central Coast came together to host our very first exclusive Aristocrat Open Day for customers. With the reopening of trade in October, we were delighted to host a day of play and an opportunity to reconnect with our valuable customers.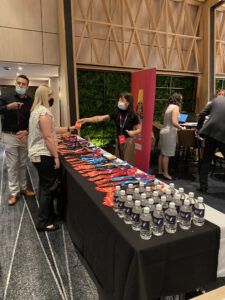 The day kicked off with a warm welcome from our APAC Managing Director – David Ronson, followed by an interesting presentation from McCrindle that focused on future demographic trends across Australia. This presentation was highly regarded by customers as they enjoyed learning about the latest statistics, predictions and it led to some thought-provoking discussion amongst industry peers at morning tea.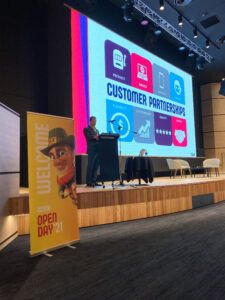 After morning tea concluded, we held a 'break out' session where our customers were empowered to choose which presentation to sit in. Room one was an engaging presentation from Craig Butler from our Customer Experience Solutions (CXS) team on the future of CXS & digital wallet. In room two, there was Terry O'Halloran from our Marketing and Insights team leading a session on industry insights.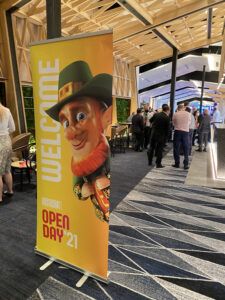 The next presentation of the day was an insightful discussion from Matt Primmer, Aristocrat Chief Product Officer, on our strategic overview & direction – the global approach. Customers got a glimpse into the global talent and studios at Aristocrat who create industry-leading games for Australia. Finally, we invited leaders from Aristocrat to engage in an interactive panel challenged with thought-provoking questions by the audience.
We concluded the event with a delectable buffet style lunch with the opportunity to network and reconnect with each other. We also showcased our latest and upcoming game families with a demonstration and the chance to test out our new games! On display was Midnight Express, Ultra Charge, Big Blast and Dollar Storm.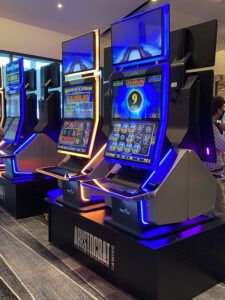 The Open Day event brought our customers to the heart of Aristocrat's continued commitment to the ANZ market and provided a sneak peek at what's to come in 2022. The feedback was overwhelming with positive comments and because of this, we look forward to hosting another Aristocrat Open Day style event in the future. Thank you to all our customers who made this event possible and for your continued partnership.