At a spritely 23 years old and with 1,272 completed 'students' under its belt, the Gaming Managers Development Course (GMDC) has been a steady constant in the NSW Clubs space long enough to see many graduates in Executive positions in Clubs and beyond. In partnership with the LCA, Aristocrat has provided this course as a means of ensuring there is a long-term structured educational component devoted to the business of Gaming that is open to Club staff. Brian Cook, the long-time steward of the course has governed over changes to the industry and ensured the course has kept up to date over the years. 'Feedback and attendance have been great, and we're looking forward to our next intake of future industry leaders' said Brian, who led the evolution of the course into 'GMDC Executive' that will evolve Industry leaders even further.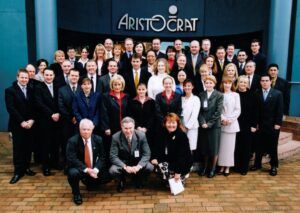 Class of 2001-2
Recently joining the GMDC in the Aristocrat stable of Industry educational offerings is the Aristocrat Hotel Gaming Course (AHGC). While encompassing NSW venues, it is anticipated that a Queensland version will be trialed in late 2022 as well. This course is a condensed package over consecutive weeks and allows participants to attend one of two days in any given week, allowing for maximum flexibility. 'This has been a long time coming for our Hotel partners, and we're acting on their feedback and recommendations' said David Ronson, MD of ANZ/APAC region.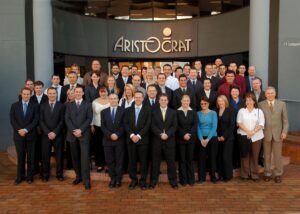 Class of 2005-6
Aristocrat are committed to advancing the knowledge in our Industry and see these courses as a vehicle to grow and evolve all Staff. We greatly appreciate the industry involvement and support of these courses.
If you have any question on the GMDC and how you can be a part of it, please don't hesitate to reach out.